Ken Moore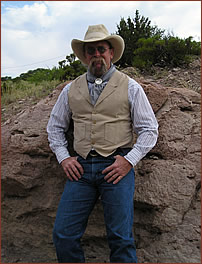 Ken Moore comes from a long tradition of ranchers and cowboys. His great-grandparents settled in the spectacular Blue River country of Arizona, and much of his family still ranch there. He was born and raised in Arizona and has been involved with ranching most of his life. Ken and his wife, Coleen, live and work on the Diamond A Ranch in Animas, NM. Ken has been writing Cowboy/Western songs and stories for over 35 years. With the help of his wife, who also helps Ken write the songs he performs, Ken came out with an album "Bringin' the Wild One's In", in the summer of 1998. The album, with all original songs, has been nominated by the Academy of Western Artists for Album of the Year for 1999. It went on to be nominated by the Southwest Historical Society and the Cowboy Hall of Fame for "Arizona and New Mexico Historical Preservation and Content". Ken and his (and Coleen's) songs have been nominated by the Academy of Western Artists and the Western Music Association for Songwriter of the Year, Song of the Year, and Rising Star. Along with his group "Roughstring", their newer album "Cowboy's Life", has also been nominated for several of the same awards.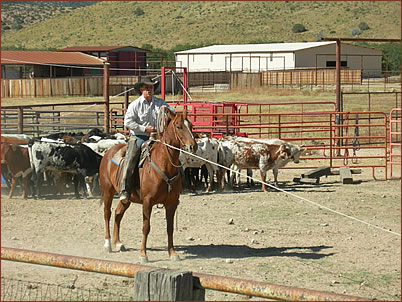 Over the past years, Ken has performed in many solo performances and with his group "Roughstring" over much of the Western United States. In his earlier performing years, Ken was part of a group known as "Rimfire", this group brought a whole new style of western/cowboy music into the Cowboy World. Folks enjoyed this fresh, new style, lots of original songs with a bluegrass/western influence. Ken carried this style into his solo performances and with "Roughstring". Folks are still loving it!
In the past 28 years he has had the good fortune to be featured in many Gatherings and concerts throughout the U.S. Ken has also worked with the school systems in several states teaching children and older students with songs and stories about cowboys and the ranching industry. With the help of the Arizona Cattle Growers, the Arizona Cowbelles, the National Cattlegrowers, and the Arizona Beef Council, he has had a lot of material to take in and show the students. "It's good they get to see all sides of the issue's concerning agriculture, not just what's on T.V."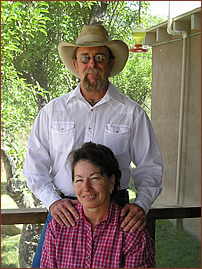 Ken is looking forward to spending many years singing western music and telling stories about the old, and sometimes new West. With roots firmly planted in ranching and the cowboy life, he has had the chance to hear first hand from family members and others that he has worked with, real stories of real people and the things that have happened in their life. As with almost all cowboy stories, there is usually a humorous side, some tragedy, and most always a moral hidden in there somewhere. "These stories are a part of our heritage and need to be preserved in any way possible". This is one of his primary goals with the western music and stories," is to keep our past in an art form that all people can enjoy and appreciate."